I love crispy chicken wings. I could sit and plow through a bucket of them in no time. They are the part of the chicken with the most skin to meat ratio and I adore them.
When I was still eating fried chicken, the 3 to 5 piece chicken wing dinner was my go-to meal. Well now that I am doing keto, all that breading was contradictory to the keto WOE (way of eating).
I found a number of baked wing recipes online and adjusted them to suit my needs and every time I have made them, they are better than the last time.
The recipe is very simple.
Chicken wings, baking powder, and salt.

1 teaspoon salt to 1 tablespoon baking powder.

It is recommended to use the above amounts for 10 wingettes.
Cooking 20? Double the amount of the coating powder blend. Using whole wings instead? Then I recommend you triple the powder mixture so it coats well.
The original recipe was a bit vague and suggested using a plastic zip bag to coat the wings but I found that it was too tight and thus some wings were coated too heavy, some got none and others just got a sticky coating.
I have since figured it out perfectly by putting 10 wingettes (wing pieces) in a larger plastic bowl with well-fitting lid with one batch of the coating powder blend. Then take the whole bowl and shake it up. The wings get coated evenly. Then do another batch until all are coated.
Not crowding them makes a big difference.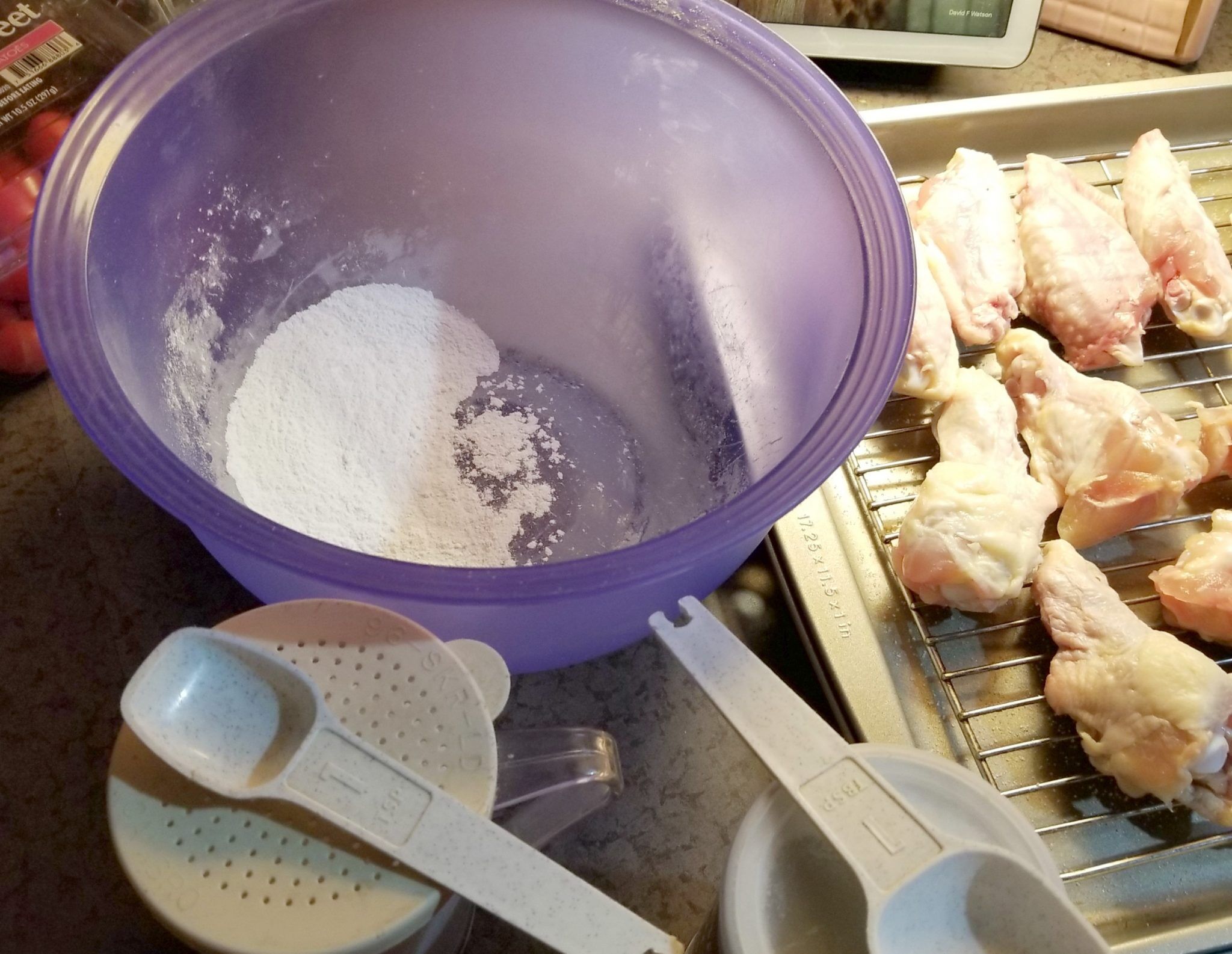 Okay, I have gotten ahead of myself so here are the steps to get the best crispy chicken wings.
1. The original recipe calls for "sweating the wings" on a baking rack by sprinkling with salt on both sides and leaving them out for an hour to get moisture to pull out of the wings, supposedly causing them to be crispier after baking. Well, I have done it both with and without this step, and unless your wings are very wet to start with, it isn't going to make that much of a difference.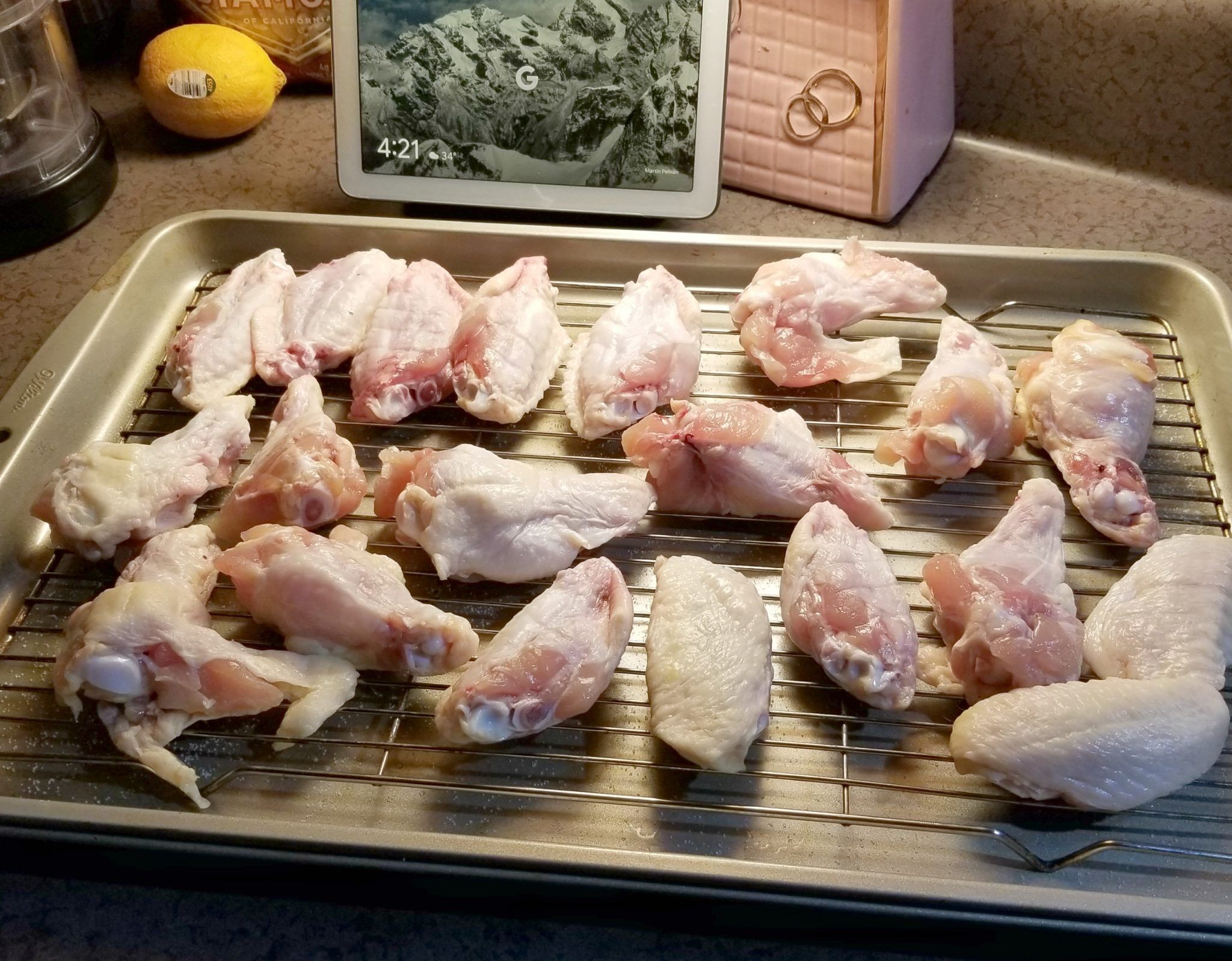 However, leaving the wings out for an hour is important to take off the chill as it will help them crisp up better, salt or no salt.
2. If you do the salted step, use paper towels to pat them dry on both sides after an hour. No matter if you salt or not, you want to pat them as dry as possible so the baking powder mixture coats them evenly, too wet and you will get clumps of the coating.
3. Take your roomy bowl that has a tight lid and dump in 10 wingettes with 1 tsp salt and 1 TBS baking powder. Put on the lid and shake it up well. You should have 10 evenly coated wings.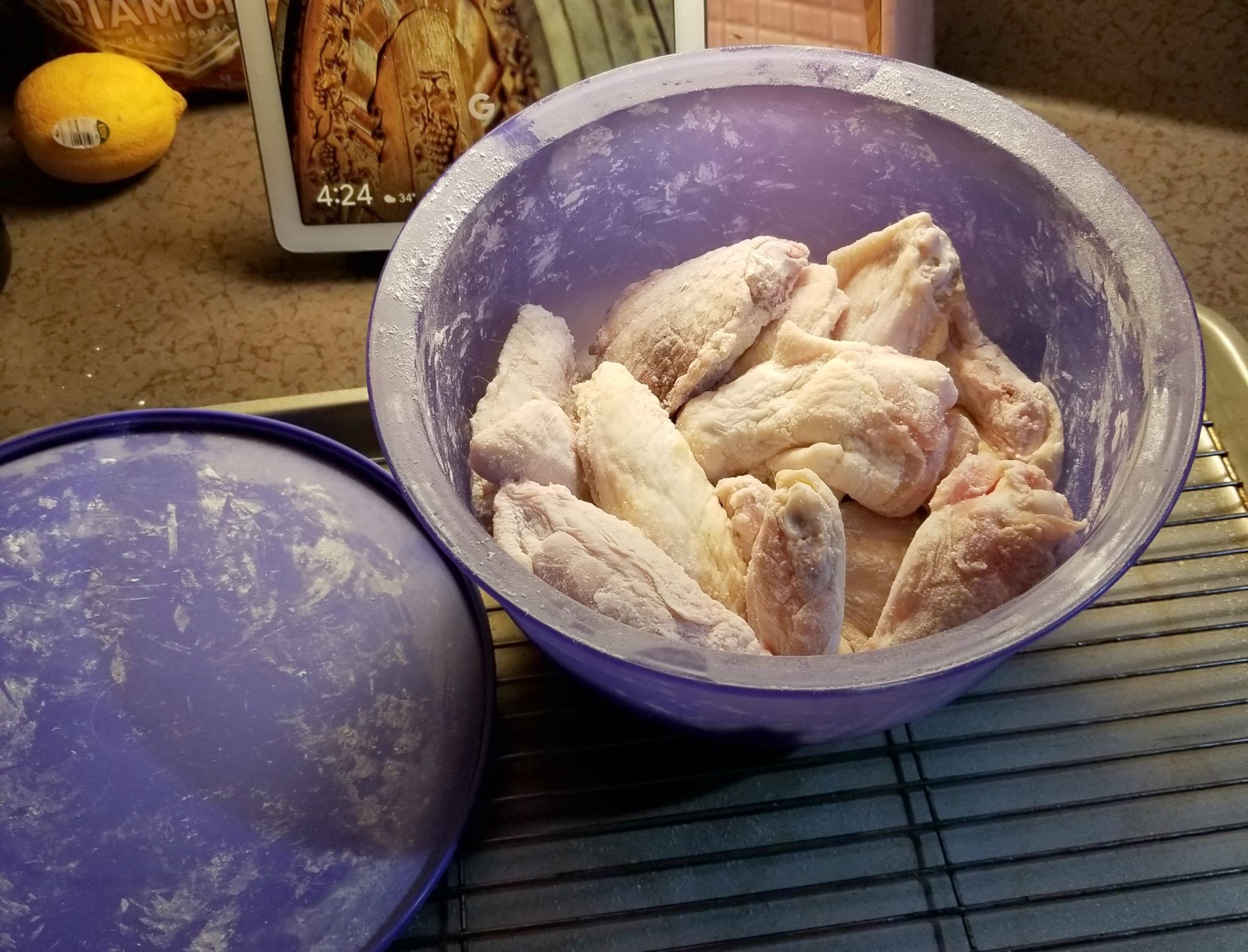 4. Place the wings onto baking racks on a cookie sheet, not touching if possible. Use more cookie sheets and racks if you have lots of wings.
Arrange them skin side up so they don't stick to the baking rack as much. Don't want to lose that yummy crispy skin.
I have prepared this recipe with whole wings and it works just fine.
Okay, here is where it creates the best final product.
5. Preheat the oven to 250 degrees. Then place your wings in the oven and bake for 30 minutes, this dries out the wings and gets them ready for the final bake temperature.
6. Don't peek at your wings, after 30 minutes, turn up the oven to 450 degrees and bake for another 30-40 minutes. 30 should be fine for the wingettes (pieces), and 40 should be plenty for whole wings.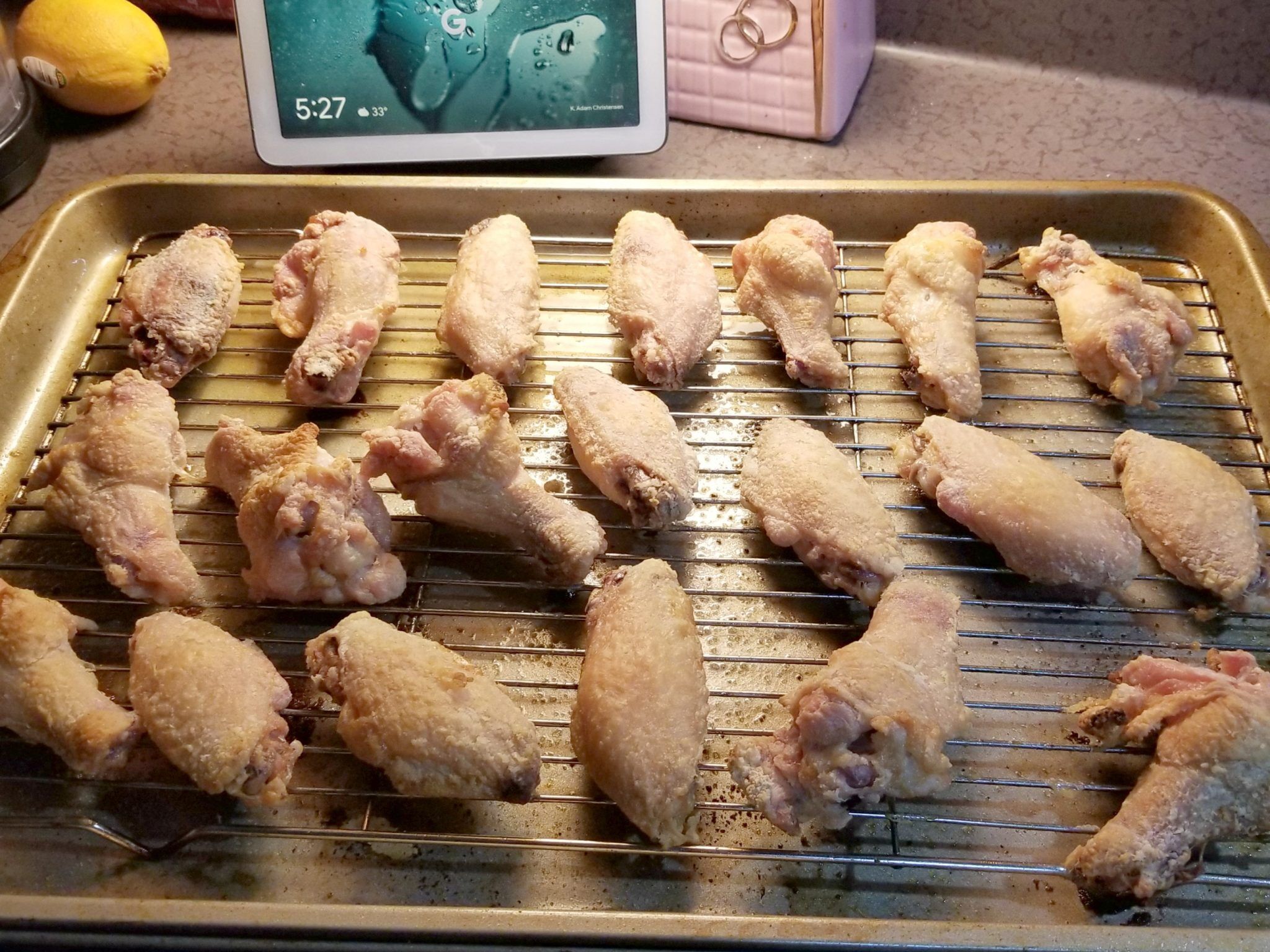 Keeping the oven closed will help make them evenly browned and crispy.
TIP: If your oven is dirty, the 450-degree heat may cause your oven to smoke as it starts burning off any grease and bits in there.

I HATE oven cleaning. I would rather MOVE than clean an oven. However, I love these wings and as such have been keeping a cleaner oven so I don't set off the smoke detector every time I make them.
Remove, pop into a big bowl and serve with your choice of dipping sauce. I like ranch dressing.
You will never go back to any other way of making wings. YUM!
I hope you enjoy them as much as we do.
Written by Catherine Tobsing
Approved by Mitch Rezman