This past weekend I was out on my weekly hunt for treasures and before I could make it to my planned destination, I blew my budget at my favorite consignment shop on shoes.
Now that doesn't happen often. Having size 9 1/2 wide feet has been a curse most of my life. I have vague memories of having an 8 1/2 wide size but that quickly blew up into 9 then 9 1/2, even 10 and once 11 during a growth spurt, that thankfully I walked right out of them (pun intended) as those shiny orange boats, stayed on the floor.
As a young woman, I still recall in shoe stores having to just tell them my size and color choice and see what they could bring out to me. Sometimes there wasn't anything.
Thankfully, over time, the average shoe size went up and I could at least locate 10s in most places and sometimes some 9 1/2s, they were not putting much effort into that size. Finding wide widths was still a chore but they could be found if I looked hard enough.
No longer did I have to go downtown Chicago and seek out the dark and creepy women's large shoe specialty store in an obscure building at 7 S Wabash for big sizes with a very small selection in dated styles.
So, fast forward to now and although I can still wear a 9 1/2 wide, I now find my toes now prefer 10's in almost every instance. Okay, I digress.
Shoes, yes, it seems women like their shoes and I am no different. Comfort is number one but they still have to look good. I admit as a young woman, my number one choice as they had to not make my feet look any larger than they were, so complete flats were evil. I hated having to wear sneakers.
Later in life, I did oddly feel better about my shoe size when I read somewhere that Paris Hilton wore 11's. That little thing wore 11's? Not that I cared about the woman, I just could feel her pain. But she didn't look to be suffering much for it and I felt petite for the first time in my life and I let those feelings go. Whatever works for ya.
Now back to thrifting, I manage to find clothes of all kinds to fit but shoes? That was not something I ever found, I still had to go buy shoes new. Not always good ones either.
In the 70's I recall shopping at discount stores like Big Ben which offered shoes at 2 pair for $5.00, or Jupiter stores (K-Marts poorer cousin) for cheap white Ked knockoffs for gym class.
None lasted long, even adding steel taps to my heels didn't help much as I dragged my feet a lot until I learned to walk properly. (Yes, you can change bad habits if you work on them).
Fast forward to adulthood and I still shopped the discount stores or sale sections when I could.
My first biggest shoe score was not from thrifting but I had lucked out while shopping at the Mall one day and found my favorite shoe store Easy Spirit was closing and I went in to look around. Now I don't know why the salesman singled me out, but he offered me a one day job to help them keep up with the shoes and upkeep of the store during the closeout. I was to be paid in shoes.
Whoa, I could do that. One pair back then was over $60 and they felt and looked good. So off I went the next day and I jumped in feet first and apparently did a really good job, even helping customers. So at the end of the day, I went home with about 10 pair of shoes ALL Easy Spirits and believe it or not, I still have a few pair, this was 25 years ago. They were such good shoes.
As a young woman, I was able to wear 4″ heels with the best of them, but over time, they hurt more than not and have since found a kitten heel to be the best for me. It still elongates the leg without taking such a toll on the foot.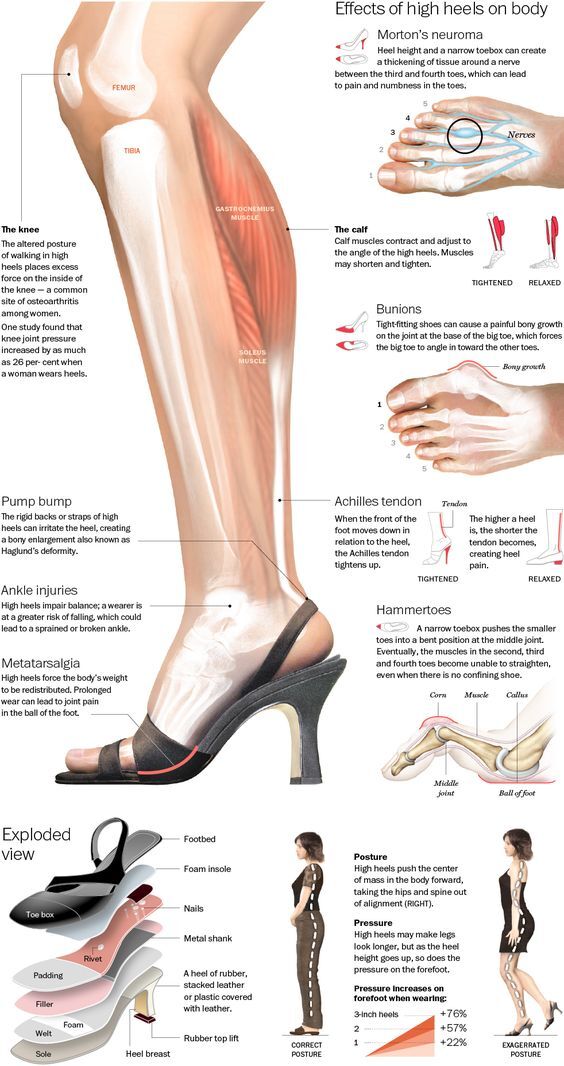 I have heard a lot about people saying they would never wear used shoes, ick, ick, yuck. Well, I can agree, if they are worn out, or dirty, etc, etc. BUT, I have found that boots are frequently bought and not worn at all, maybe once, I can say that most of my first thrifted footware were boots and they all appeared to be like new.
Lately, I have been finding more shoes in my sizes available than ever before. Also, almost like new. Nobody wants other people toe jam, fungus or worn down soles and thankfully, most decent thrift shops toss them out in that condition which makes for better experiences in shoe hunting.
So back to last weekend, I love shopping at the little shop as they are neat, clean and not so large that I can't go through all the sections if I have an hour to spend there. It is the only place I have ever found jeans in my size, mainly because, they have maybe 20 pair of any size on the rack so it only takes a few minutes to look at them all. And they have a fitting room.
Same with the shoes. And they are sorted by size, something rarely done in thrift stores. Now since I can wear 9 1/2 through 10 I do have to go through both the 9 and 10 size sections, it still doesn't take long.
I also have to say that I am getting a much better shoe by thrifting. When retail shopping I rarely looked at the better shoes not because I didn't want to, I just couldn't spend the money required to get better shoes that often.
Thrifting has allowed me to enjoy brands I could not afford or even heard of.
Birkenstocks, Lucky Brand, Clarks, Naturalizer. Not especially pricey, but good quality. My feet have been through a lot over the years and they like to feel good.
So here are just a few of my purchases and I don't recall all the prices I paid but they averaged $5 a pair overall.
Birkenstock Sandals. This pair was $8 and totally worth it, (retail average $99) the leopard strip came off pretty quickly but left no residue and no one sees it when on anyway, they are my favorite sandals right now.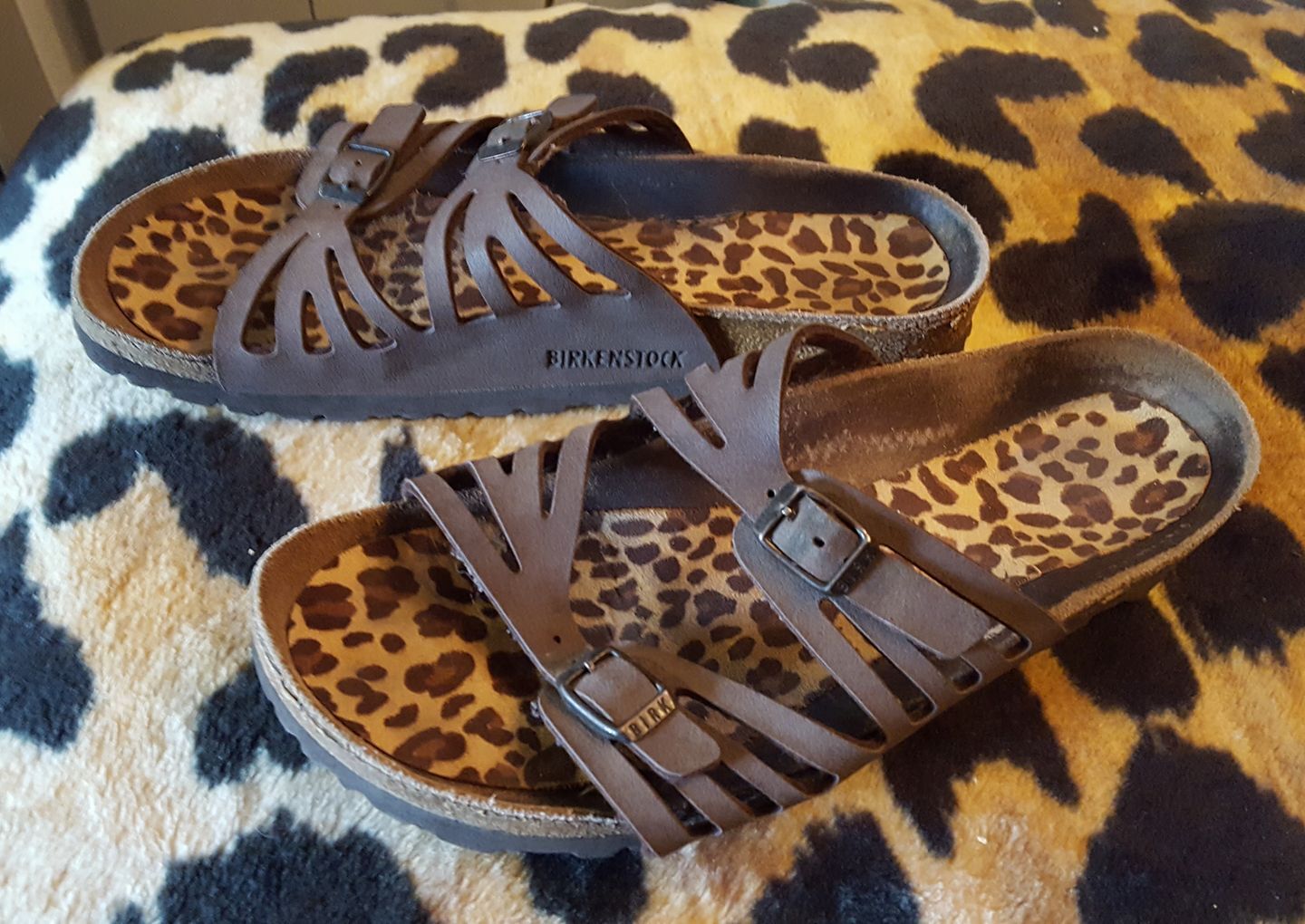 Op Camo Sandals, paid $2, not expensive even at retail, but very nice and soft and I switch to them when I tire of the Birkie's above. I may look for a new pair when they wear out.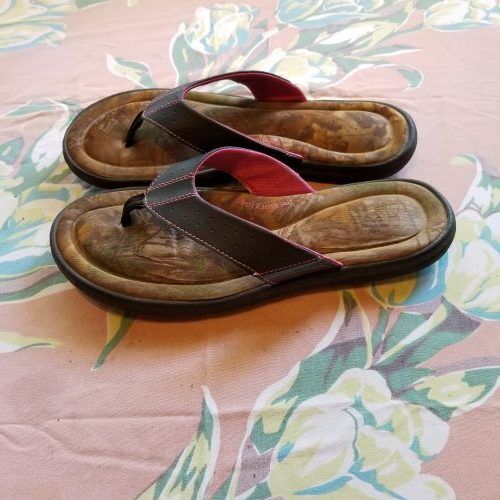 Crocs Cap Toe Flats, paid $5, and these are just adorable with the leopard bows. They retail for at least $40 and these are terrific for messy grounds.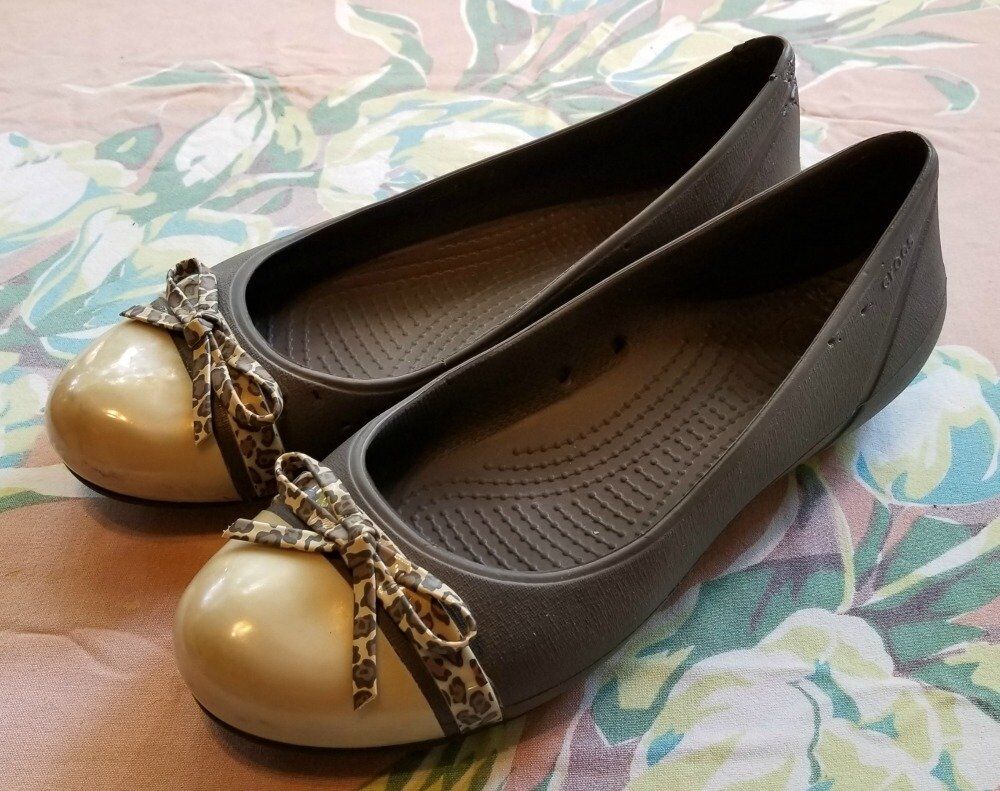 On the topic of rubber footwear, Sloggers are very good gardening and rain footwear. These Classic Black boots go for $39.95 retail and the clogs for $29.95. At under $5 each, they were like new and yes, I have used them a LOT.
Two winters ago I picked up these like new ToeWarmers deerskin boots made in Canada for $8. Found they originally retailed for close to $150. Score! They truly saved my feet in the last Chicago winter we lived through.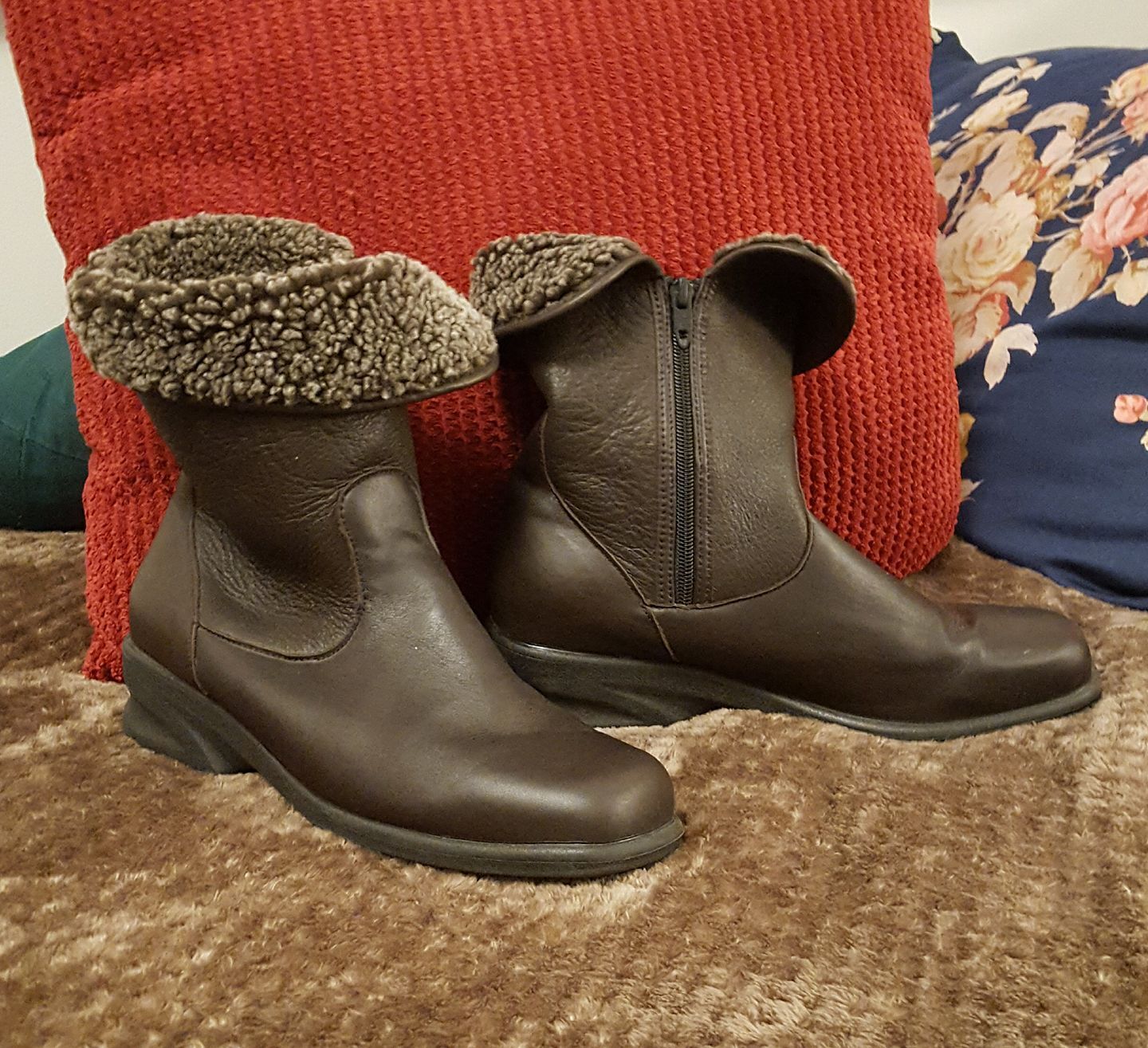 I discovered the joy of Clarks shoes only due to thrifting. I had never heard of them before until I saw them at a Garage sale. There were several pair, the woman selling them said the adored them and had too many. I settled on two pair, one black and one blue. Paid $5 a pair, they retailed for $60 plus. LOVE them.
These Clarks Blue Suede shoes have become my go-to shoes for wearing with jeans. SO comfortable.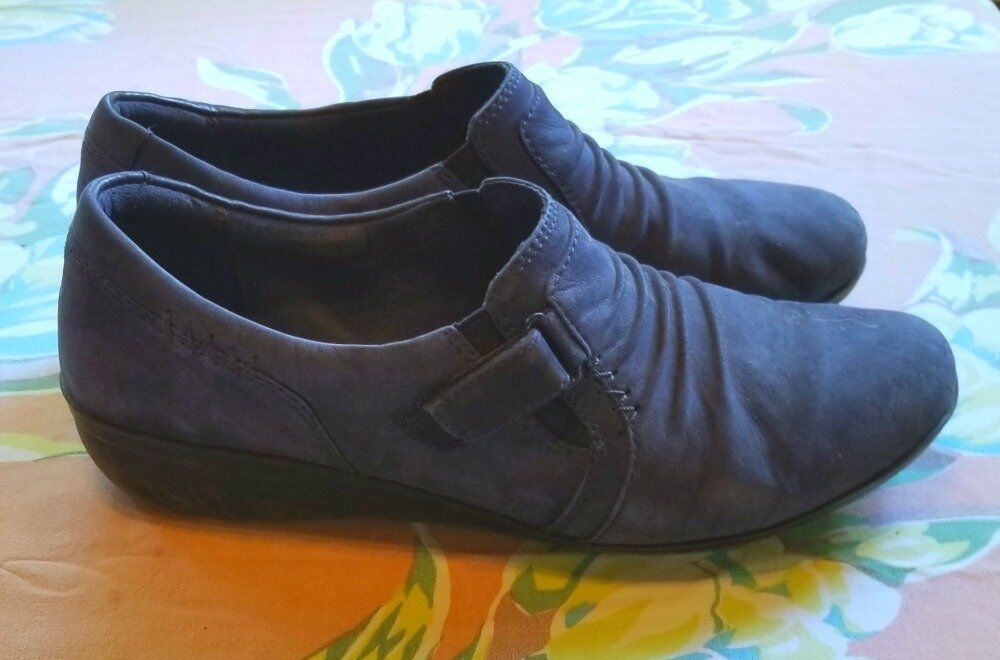 These Black leather Clarks found at the same time, they don't look like anything special, and if not $5 I never would have tried them. Just not a style that ever appealed. OMG. Once they are on my feet I don't think about my feet again, at all, all day. The best, truly.
I just picked up these lovely brown Clarks Bendables Leather Slide Sandals and if I hadn't already found Clarks to be just wonderful I may have passed them up. So glad I didn't. Bought for $5 and they retailed about $49.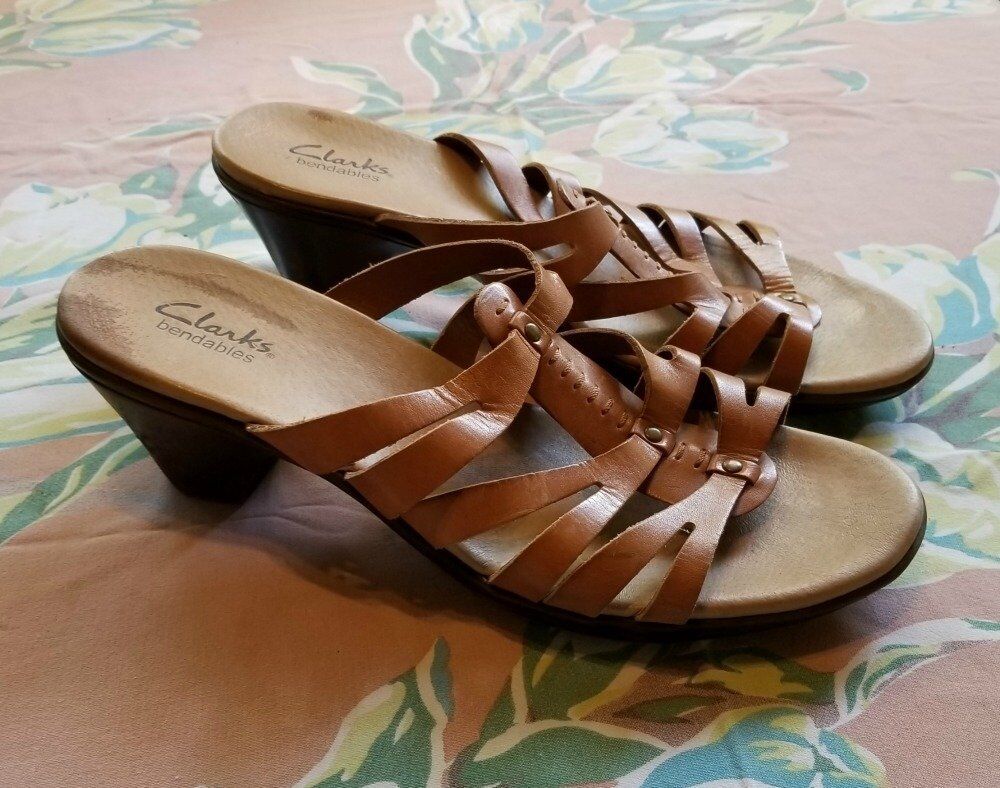 Who doesn't remember those wooden Dr. Scholl's sandals that were in every drugstore? They were hard and unappealing. Well you know, they still sell the hard, wood sandals, for about $90 a pair. Really! Well, this pair has the look, all jazzed up in leopard and with a softer manmade footbed and is pretty darned comfortable for $5, Retailed about $54.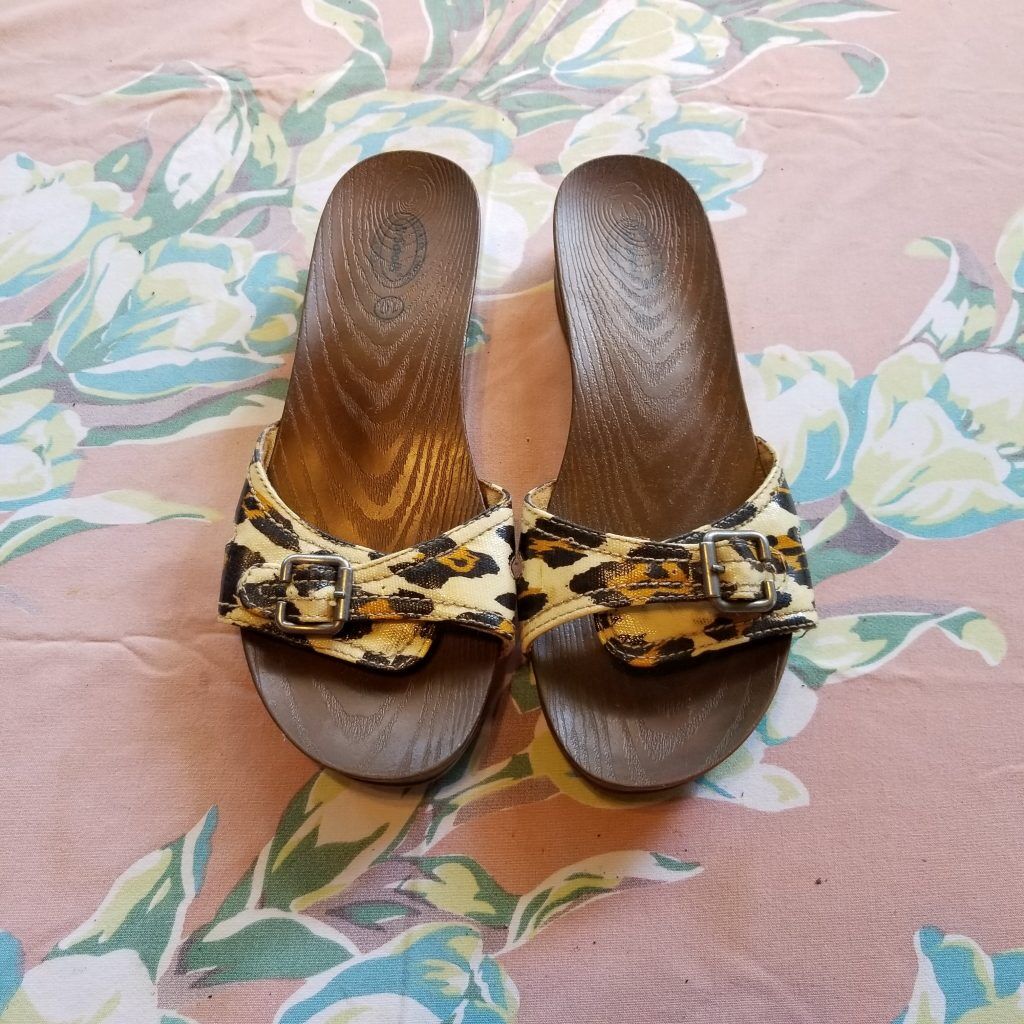 I felt a special thrill when running to the post office midweek I stopped at a thrift shop to find these Pewter alligator loafers from Ann Klein 2. Never would I have glanced at these shoes at full price $50 plus, but at $4 these will be kicking with jeans.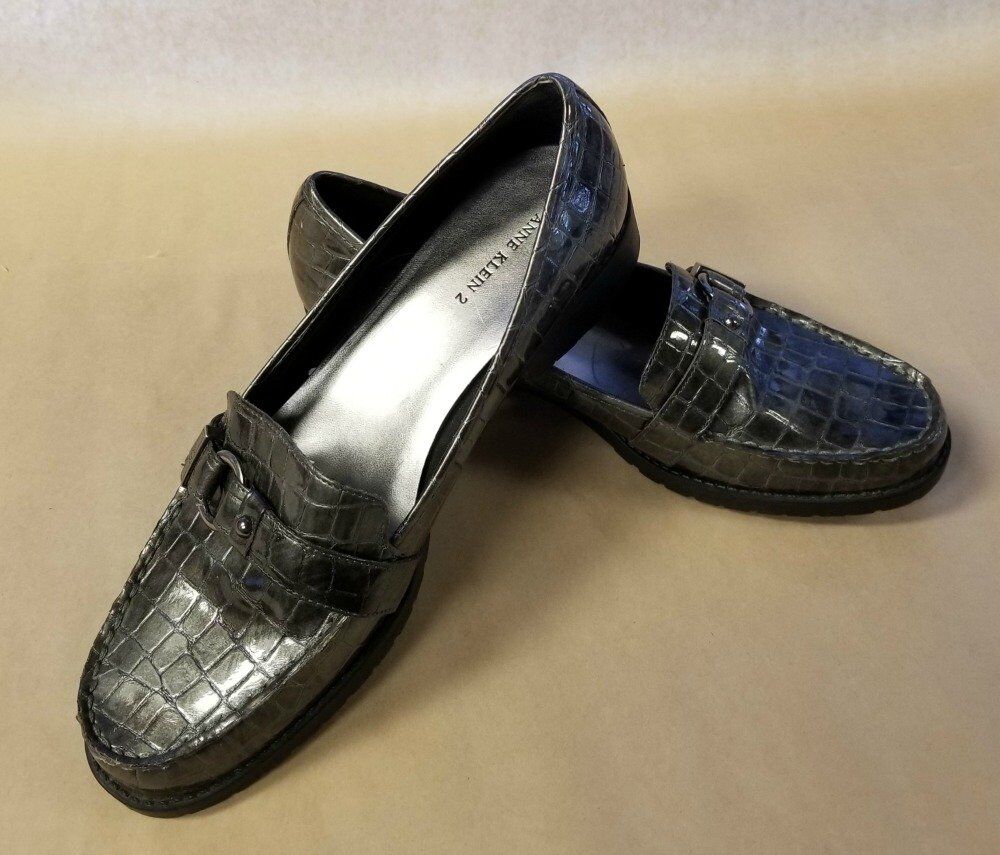 Finding prettier shoes that fit and I can dance in can be difficult, but I found two pair of the nicest sandals, like new, not even a scuff mark, same style, but one black and one white. Again $5. each by Italian Shoemakers.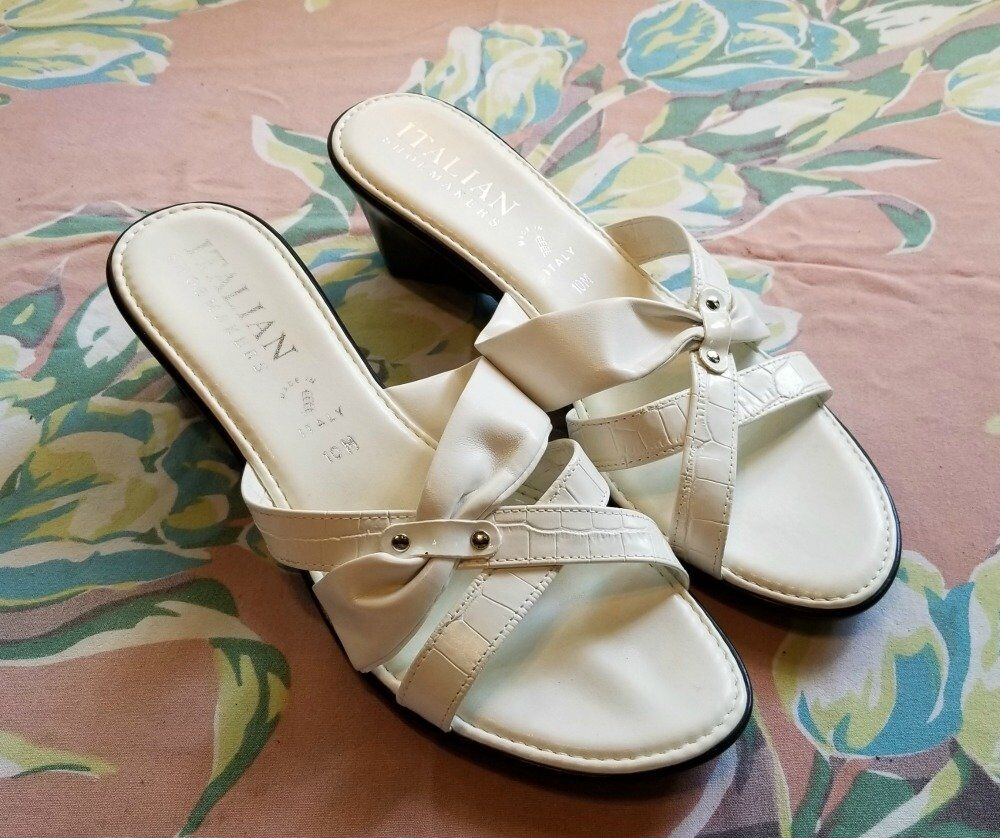 Not expensive, maybe $35 a pair retail. But will go with a lot of my clothes and I can dance the night away.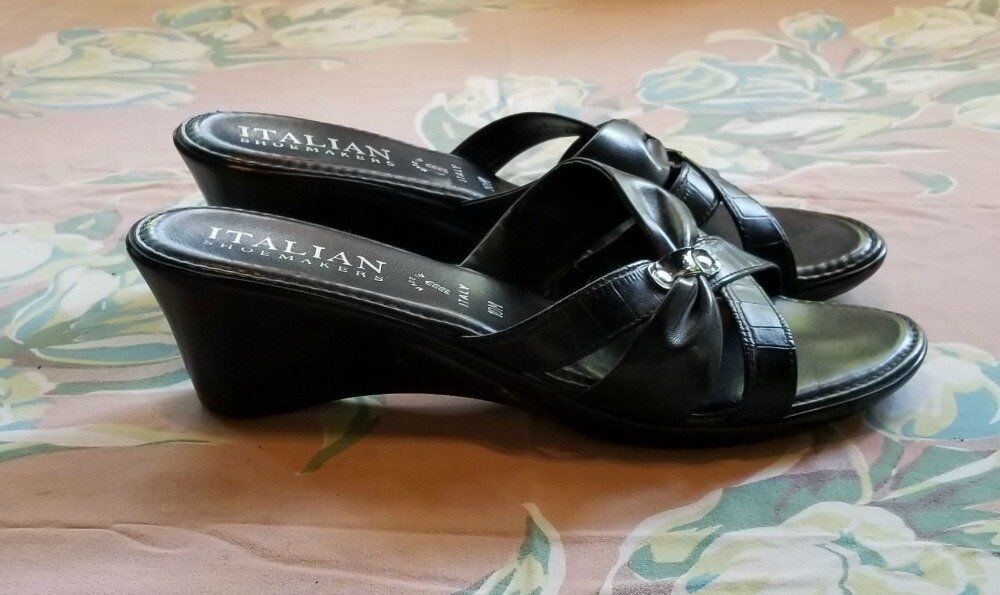 Hmmmm, you know, I think I have a lot of shoes. I spent about $67 on these 13 pair and retail would have been at least $750. Basically 13 pair for the price of one pair.
I will show more another time.
Yes!!! I love my shoes.
Recently I found treasures other than shoes.
Now I'm the hunt for storage at our shop in Lowell Indiana.
Stay tuned.
Your footnote
Written by Catherine Tobsing
Approved by Mitch Rezman
"Happy wife, happy life." MitchR