I'm a fairly active guy and was a 3 to 4 day per week gym rat for over two decades.
For my 50th birthday (my second date with Catherine btw), I bought myself a three-year membership at Bally's for $54 a month.
I'm 67 at the time of this writing
At some point spending 90 minutes for a 45-minute workout because you have to commute to the gym and possibly change clothing (which I stopped doing to save time) that in Chicago traffic was 20 – 25 minutes both directions.
In the late 90s, I did marathon bicycling for about six years riding 1000 to 3000 miles a season.
Point is I'm in tune with my body and respect it.
Editors note: If you've been keeping up, I've already pissed off the owner of an optical surgical facility in Merrillville, IN.
Now, here I am banging heads with another well respected DO in the Northwest Indiana medical community. Endnote
As a younger man in my 40s, I had a lot of back pain due to herniated discs at L4 and L5.
Several bone spurs added to the misery.
At some point, both discs slipped out like an oversized burger oozing from a (sesame seed) bun which triggered a case of sciatica.
I was examined by a handful of back "specialists".
They tried two or three lumbar epidural steroid injections which bathed the protruding discs with cortisone.
The result was always short-lived.
At one point I was all but paralyzed and could not make my body erect.
I was desperate.
My wife at the time was having a phone conversation with her brother, a radiologist in Scottsdale Arizona.
He said the only man that could fix me in Chicago was a neurosurgeon that had been one of his professors at Northwestern Hospital/University.
He was based out of Lakeshore Hospital at the time which is since been converted to condominiums.
I literally walked/crawled into his office on my hands and knees.
I fully expected to be scheduled for surgery which would surely fix the awful torture I was enduring.
He smiled and said, "I'm a surgeon, but I have a better idea.
Were going to put you through physical therapy, go upstairs and make your first appointment."
At the time I had very good health insurance and perhaps the doctor was looking out for me because of his relationship with my then brother-in-law.

I ended up going through physical therapy for 16 weeks.

But not your typical physical therapy.
I had a lead physical therapist was hands-on to help relieve the pain.
She also handed me a list of stretches to do at home.
I did these religiously seven days a week, in spite of her "hold the position" times of 90 seconds which at times was brutal.
She worked with a second physical therapist between the two of them, they would wrap my body into an unconventional position and pull from each end releasing pain points.
Another physical therapist worked with me in water.
There was a pool on the seventh floor.
She would fit a flotation device around my waist which kept me buoyant and above the surface.
From this position, I was able to do simple lower body exercises without normal terrestrial resistance.
In addition, I spent several sessions in occupational therapy.
Lakeshore Hospital had an entire apartment built into half the floor.
Here the occupational therapist would teach you everything from how to sit down, to how to pick something off the floor.
Take something off a shelf in the kitchen and move it to another shelf.
I learned how to get in and out of a car and even the proper way to get on and off the toilet.
In the last two weeks, I was introduced to a young man who provided additional physical therapy in the form of weight training.
He was working on his Master's degree in Kinesiology hoping to gain a job with one of the major Chicago sports teams.
He patiently taught me not only how to lift weights but how to use things around you like furniture and doorframes produce resistance training which means you never had an excuse, not to work out.

To recap I walked in on my hands and knees and finished lifting weights.

Since then I've always been a disciple of physical therapy.
Over the years I've been able to rid myself of pain through stretching and an inversion bed something that I need to acquire in the near future.
For almost 20 years I swim every summer and try to get a half a mile to a mile in on the weekends.
I use flippers and swim gloves to create resistance.
If I start swimming in early June when the water is warm enough, by the Fourth of July I'm usually pain-free after dealing with Chicago's cumbersome winters.
Moving both our home and business to Indiana was painful on a number of levels.
Physical pain was probably at the top of the list.
By the time we had finished our initial move in some time during late April, my body was just wracked with pain.
Some nights I would take a few Aleve and perhaps enjoy some whiskey to help dull the senses.
Other than that I'm not into painkillers.
My doctor knows that I'm not a "pill guy".
Those pills are a slippery slope as everyone reading this knows.
Barring things like surgery and major pain from say, broken bones, painkillers work against you in many ways.
I personally feel that numbing soreness artificially for minor "injuries," both muscular and orthopedic are there to tell you when to limit your activities.
The problem for me is exceeding the limitations that pain is trying to define for me which may further enhance the injury.
Once the pace of moving in lifting odd-shaped objects up and down three flights of stairs I decided to wait and see what throb would go away and which insist on remaining.
In the meantime, I had other things that needed to be accomplished before I got into a whole old guy medical doctor care thing.
I needed to get cataract surgery because my night vision while on the motorcycle had degraded so I stopped driving my motorcycle after sunset.
I had other unavoidable projects.
Finally the discomfort in my knee, back, groin and neck had become merciless.
I was fine standing but getting out of the car after a long drive took a few minutes to adjust as well as getting out of bed in the morning.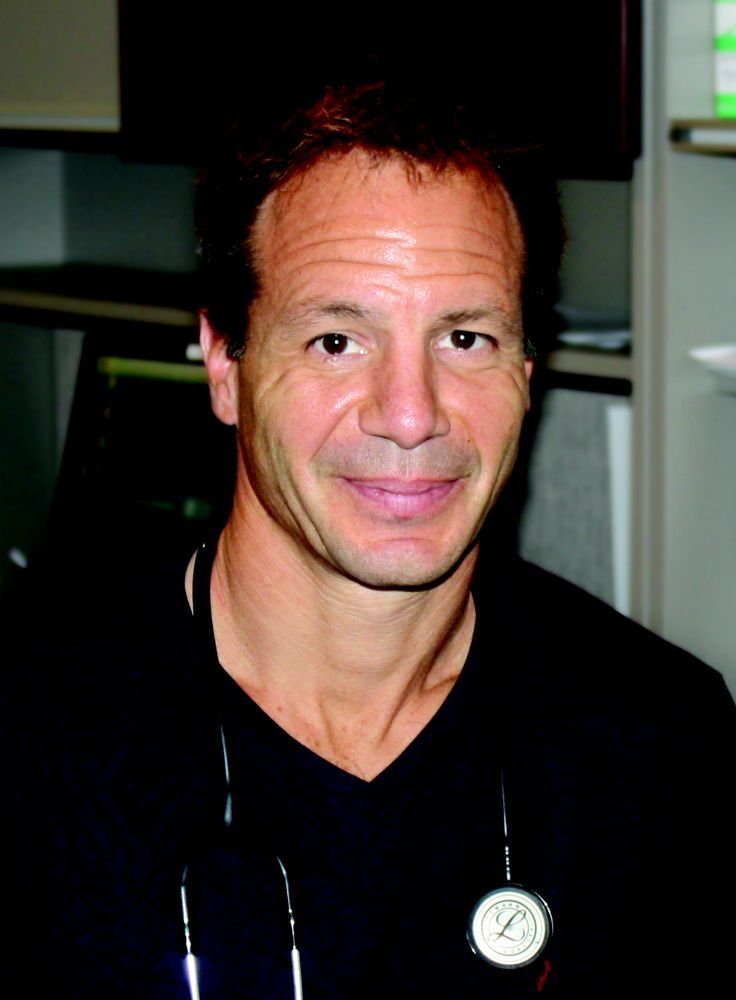 Krister Johansson, MD my personal (board-certified) physician for 17 years had recommended Patrick Cosgrove DO for my new Indiana Dr.
I called and was informed that he wasn't taking on new patients.
I did not want to impose upon Dr. J so I searched for local doctors.
The one that popped out, who will remain unnamed is the one I chose because he served his internship and residency at Swedish Covenant Hospital in Chicago where Dr. J had his practice.
I scheduled an appointment and was seen by the good doctor in a reasonable period of time.
After talking to a physician assistant and then the doctor in a physician assistant and training, the doctor made a couple of comments.
The first thing he said about my back was "it sounded like sciatica".
I don't have a medical degree but it felt nothing like sciatica and I said the words "I've had sciatica in this ain't it," clearly took the doctor back.
He never examined me but suggested I get x-rayed.
If the x-ray showed damage somewhere I would get approval (from Medicare) for an MRI.
A couple of days later I was scheduled for MRI(s) at Community Hospital Outpatient Center, St. John.
During the scheduling conversation, they told me I was scheduled to have my knee and left hip done.
I asked, "what about my neck?"
The woman said, "there's no mention here but if you have a neck issue we will add it".
I've never had an MRI on that particular day I got three.
Each body part required an electronic "cage" over my face, hip, and knee.
They gave me headphones that streamed the Spectrum on Sirius XM which made the experience humane.
If you've ever had an MRI are seen one on television and you hear the thump thump thump, those are magnets creating the electronic images of your body.
Upon leaving the attendant told me "my doctor should have the results in one or two days."
That was on a Wednesday, by the following Tuesday I had heard nothing so I called.
An hour later the nurse calls back.
She told me "you have a torn medial meniscus, we're not sure about the hip but were going to refer you to a local orthopedic surgeon who will look at it."
"And what about my neck," I asked.
"I'm not seeing anything about your neck here" the nurse replied, "I'll call you back."
But 24 hours later the phone rang with the doctor's number showing in the caller ID.
"Hi, Mitchell, we've looked at the films of your neck," said the nurse.
"The pain is coming from the three cervical vertebrae that were fused," she went on to say.
I paused, drew a deep breath and in a low even voice I responded that "I've never had back or neck surgery."
"Are you sure," she queried?
That really shook me.
I abruptly ended the phone conversation.
Much like the cataract eye surgery caper immediately hopped on the phone and made an appointment to see Dr. Johansson the following Tuesday.
Immediately after ending the first phone call with my new (fired) doctor's nurse I called the orthopedic surgeon in Munster to make an appointment.
I remember driving up to Chicago that no one from the ortho's office ever called back.
In the examination room on the sixth floor, my favorite Dr. J came in and I related this entire scenario.
He echoed what I had thought about the fused cervical vertebrae diagnosis.
"They must have been looking at the wrong patient's film because we both know you've never had neck or back surgery."
I will personally call down to Dr. Cosgrove's office and see to it that he accepts you as a patient.
I thanked the doctor but I reiterated that "my pain was becoming oppressive and I was hoping he could expedite the process for onboarding at Rush Hospital in Muenster Indiana, facility that came highly recommended by people I admit down here with similar injuries".
He said, "first of all the pain in your back and groin has been triggered by favoring your right leg due to your knee injury." (angels singing)
I won't know anything about your neck until I see the films so please get them up to me.
Then he smiled, that quirky smile and asked if I wanted to start right now?
I perked up, "Of course!"
"Take off your pants and lie on the table," he commanded.
Editor's note: this is the only man in the universe who could get away with saying those words to me. Endnote.
He returned shortly with a large syringe and a larger needle.
Why lying down he cradled my right leg.
He began to manipulate it, bending at the knee, putting his finger just to the left of my kneecap and then pulled my calf slightly.
"That's it!" I muttered uncomfortably.
With both legs prone on the table he began to inject that really BIG needle on the opposite side of the pain and I could see him moving it slowly back and forth.
As he did this as he related about his street hockey team the neighbor kids and that he gets injuries like this all the time.
Every six or seven months, which is about how long the injection will last, I learned he will go upstairs and exchange injections with the orthopedic doctor who has the same knee injury as well.
Experience taught him that "scoping" the knee leads to more degradation five years later.
"I've had much better luck with cortisone shots and physical therapy," he confidently stated.
"Let's take care of that I'll be right back".
Upon his return, he handed me a computer-generated referral form that basically acted as a prescription for physical therapy on my knee.
For some reason, due to favoring my knee, my right quad had atrophied and was about 25% smaller than my left.
He instructed me to work on that by doing 60° squats using an exercise ball (which I own) against the wall.
I let him know that I had onboarded with Dr. Cosgrove's office and thanked him profusely for the Indiana Dr. referral, the injection and the physical therapy mandate.
I drove back to Lowell with a much better attitude.
By bedtime, the pain in my knee had vanished.
In the meantime, I started visiting Athletico in Lowell three blocks to the east of our home.
Beth Dertz, a physical therapist with 10 years of experience would help me help myself in mending my body.
After intake, she started having me doing stretches and some exercises.
By the second session, she explained that the scope of treatment was limited by the body parts defined in Dr. Johansson's referral.
Knowing that I would be seen Dr. Cosgrove the following week I promised to bring back additional prescriptions for my hip and neck.
Dr. Cosgrove was prompt and alone when he entered the examination room during my first visit.
He related to me that he went through his residency at Swedish covenant with Dr. Johansson and also lived next door to him for three years which explained the referral.
I recapped everything that happened up until this point.
Dr. J had sent the MRI films down to Dr. Cosgrove who had them on his notebook computer.
The "cervical fusion surgery" diagnosis by the first Indiana Drs. was due to a "misinterpretation" of the MRI Dr. Cosgrove cheerfully related.

He said, "the three cervical vertebrae are fused but that's due to arthritis, if we had an MRI from five years ago, you would've not seen any fusion."
Everything was coming together at that point.
We bantered a bit about his relationship with Johansson and I said basically what I'd like is two additional scripts for the knee and the help that I can take back to Atletico so they can expand the scope of the treatment.
He lit up because I think he was happy I was an old person seeking opioids to numb the pain with no effort.
He walked back in saying that he just couldn't get everything to work on his computer and had "me-too" old-fashioned prescriptions that briefly defined the body parts that needed repair and hopefully would be respected by Medicaid and my supplemental insurance.
On the way back from his office I stopped at Athletico, Lowell to bring in the scripts.
A brief discussion needed to be had between Beth and the unit's administrator Wendy about how to merge the two doctors' prescriptions so that they could have a single case open.
The next day, I returned for my fourth physical therapy session.
It was similar to the first because a fresh intake needed to be done assuring that nothing had changed in terms of medication or pain since the initial prescription by a different doctor.
The Atletico team worked it all out.
The next 45 minutes were spent listening to Beth who I now affectionately call "Sarge", having me do exercises and stretching.
She sent me home with about a dozen more stretches to do daily which would dovetail with the original seven or eight she had sent me home with on day one.
She also made me realize how out of shape I was while motivating me to change course immediately.
Stay tuned.
A caveat, "Hey Wendy, if you can get this published it will have far more (marketing) efficacy than your gaggle of 5-star reviews on Google My Business".
Written by Mitch Rezman
Approved by Catherine Tobsing